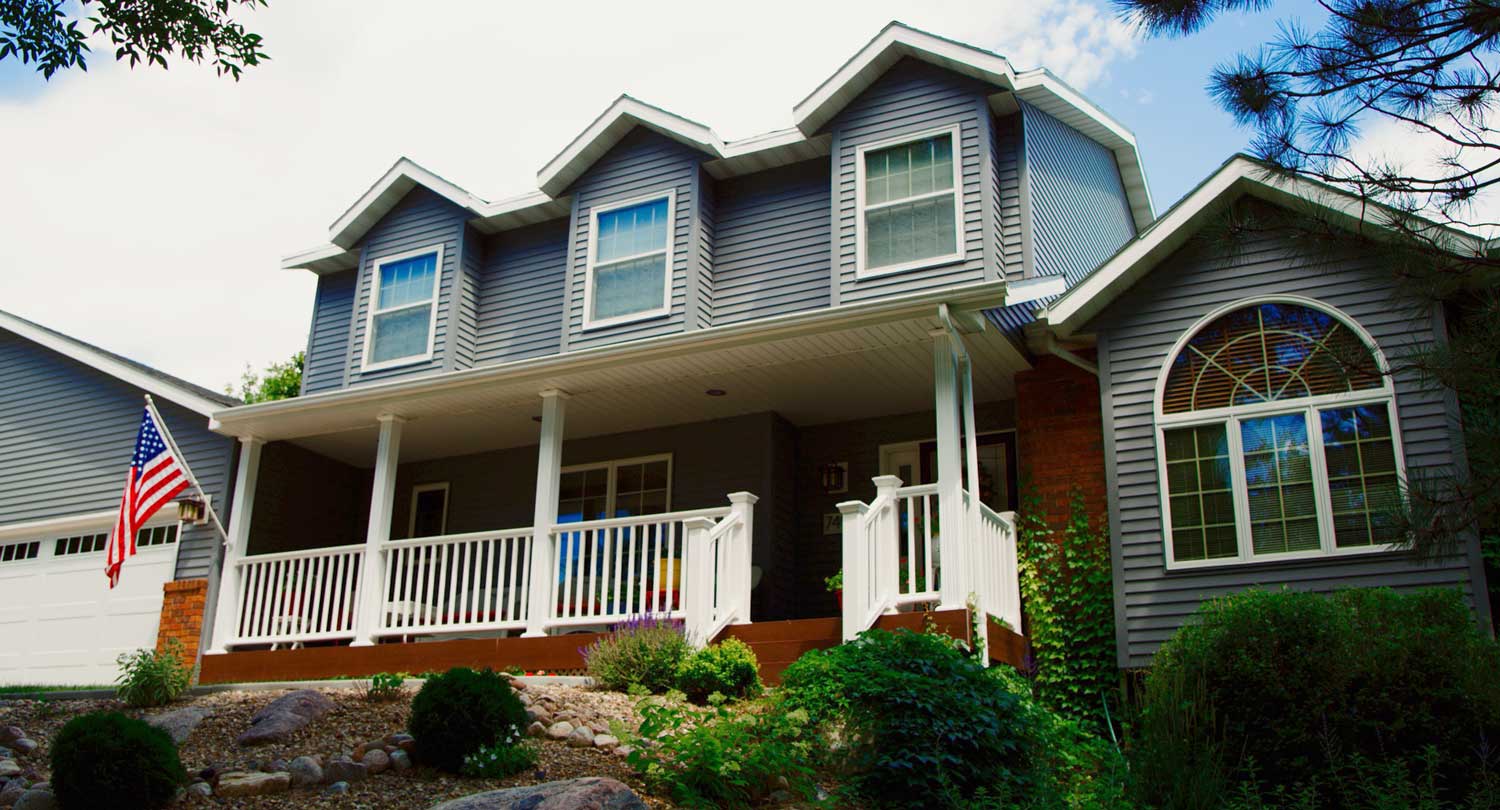 Replacing the siding on your home isn't the most glamorous of home renovations–in fact almost a third of all renovations revolve around the kitchen. But it's an important renovation that can drastically change the appearance, value and energy efficiency of your home. Here are a few types of siding to consider when it's time for a change.
Brick Siding
Brick siding is amazing; it lasts a really long time and is very durable. The only maintenance that's generally required of brick siding is a spray wash once in a while. Unlike other types of siding, brick is not very susceptible to damage from water or weather. Because of its durability, brick siding can keep your home insurance rates low.
On the other hand, brick siding can be a labor-intensive process. A good siding contractor would certainly be worth a look if brick is your siding of choice. As a trade off for brick being durable and requiring little maintenance, you can't really paint brick. Whatever color you pick will be the color you're left with for many years.
Vinyl Siding
Most houses have vinyl siding as it is very cost-effective and durable. While some types of siding are limited in options, vinyl has a lot. There are virtually limitless options for vinyl siding, both in color and texture, and the orientation and style (vertical vs. horizontal, for example).
While vinyl siding is certainly durable, it's more susceptible to damage and weather than brick. During a siding installation, it's important to ensure that vinyl siding has been installed properly as water can get behind the panels and lead to mold and other kinds of water damage. Also, vinyl isn't paintable.
Wood Siding
Wood siding is beautiful and eco-friendly. It's also very versatile because it can be stained and painted any color. While certain species of wood are more expensive than others, wood is lightweight and easy to install, which can ease some of the initial installation costs.
In the "cons" column for wood, however, is its susceptibility to fire damage. This can be concerning for home insurance companies. And even though the wood is easy to stain and paint, it does require touching-up every couple of years (depending on the stain and quality of paint). Wood siding is also vulnerable to termites and other insects, which can go unnoticed until there is a significant problem.
Stucco Siding
Stucco siding looks very cool, and gives off a very distinct Southwestern look to any home. There are a lot of different color options for stucco, because (like paint) a siding contractor can include any color of paint into the mixture before it's applied. Stucco is also really durable, lasting up to 50 years without a ton of maintenance.
Even though stucco is pretty weather- and rot-resistant, it's not impermeable. If you live in a really wet climate, stucco can be compromised more easily. And even though not much maintenance is required, stucco does get dirty pretty easy.
Stone Siding
Like with brick siding, stone siding is something you'd likely want the help of a siding contractor for. It's very heavy, and a very cumbersome process. However, it looks incredible and will last (almost literally) forever. Like its brick counterpart, stone is maintained with just a spray wash every now and then, and it's really resistant to weather, insects, fire and pretty much everything else.
Like we mentioned before, stone is heavy, however, and the labor is pretty intense. Also, there's a general tendency to try stone veneer to get the look of stone, but stone veneer is much less durable and much more susceptible to weather damage. Nothing beats real a real stone exterior as far as looks and durability.
Conclusion
While installing new siding on your home might not seem like the flashiest renovation that you can do, it is extremely important to your home's overall longevity, appearance and value. While some types of siding can be installed fairly easily, others are extremely labor-intensive. A siding contractor is a good bet if you're ever in doubt, as even the "easy" types of siding need to be installed properly to prevent weather damage.